What colours can your products be supplied in?
Please See Below: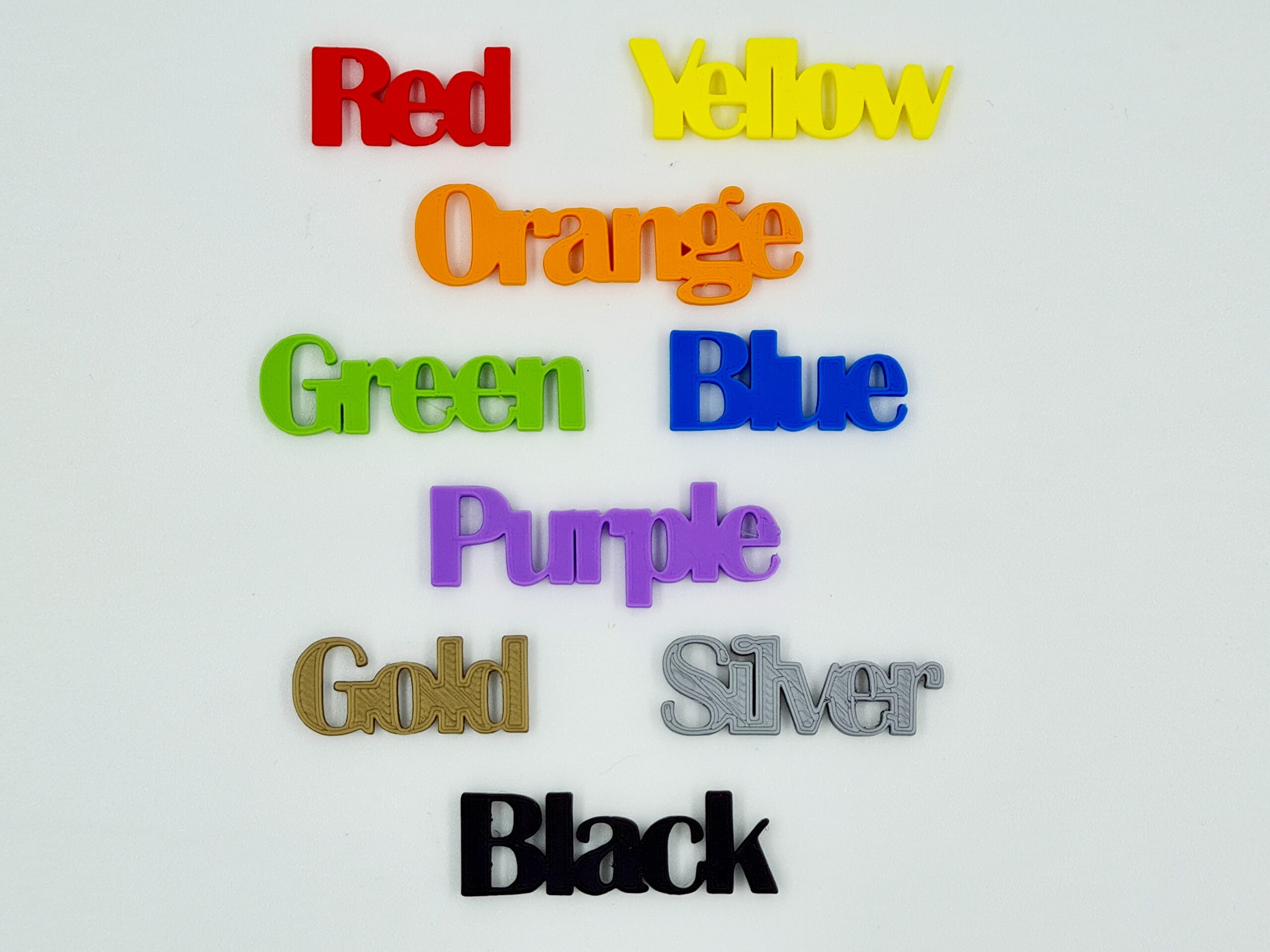 What does The Artificers Forge do to reduce its impact on the environment?
We exclusively use the highest quality PLA (Polylactic Acid) filament in our 3D printed products. PLA is a thermoplastic derived from plant starch, it is sustainable, readily (and almost infinitely) recyclable and also biodegradable over a much shorter timeframe than any other type of filament. We also don't make any single use, disposable items – all of our products are designed to be robust and endure many games for many years.

We pack all our products carefully in Eco Flo starch-based biodegradable void fill peanuts before shipping in boxes made from up to 90% recycled material and sealed with 100% recyclable paper tape. We even use cardboard 'bubble wrap'!
What is your Returns Policy?
Each of our items is 3D printed to order, lovingly prepared and quality checked before being shipped, so it is very unlikely that you will be unhappy with your purchase!

That said, we are all human and the odd mistake can sometimes happen and the happiness of our customers is paramount! If you are not satisfied with your purchase for whatever reason, please get in touch with us via the Contact page or via email and we will do our very best to resolve your issue.

Orders may be refunded, provided the refund is requested within 30 days of receipt of the items and that the items are returned in exactly the same condition they were received.
I am an International customer, will I need to pay Import Tariffs (Customs Taxes)?
This depends entirely on whether the country you live in charge such a thing for goods imported into the country.

In most instances, our level of trade with a particular country is sufficiently low to avoid these charges, however, in instances where import tax needs to be paid, this will be the sole responsibility of the buyer.

If you are unsure, check your Government's website for guidance.
How should I store 3D printed items?
All items can be stored under 'normal' household conditions. However, bear in mind that PLA has a glass transition temperature (the temperature it begins to warp) of between 60 and 80 degrees Celsius. Probably best not to leave them in direct sunlight in the conservatory 😉
Will I be able to see the lines on the 3D printed items?
As with all FF (fused filament) 3D printing, some striations (print layer lines) will be visible, however, we use, in our opinion, the best 3D printers on the market along with high quality PLA material and low print layer height. All this combines to minimise these visible lines. Check out the listing photos, which show the quality of our products!
Can I get rid of the lines myself?
Although we personally don't think it necessary, additional work can be carried out on the printed items to further reduce the line visibility such as sanding etc however, we would strongly recommend making sure you research this thoroughly before attempting any alteration to the product. If you are unsure, please feel free to ask, we are happy to help where possible.
Can I paint my items?
Yes, absolutely. We carefully choose which filament colours we print each product in, which eliminates the need to paint them, however, as hobbyists ourselves, we know just how much a model can be enhanced with some carefully applied paintwork! We recommend any standard acrylic paints such as the Citadel or Vallejo ranges. The spray can base paints are also fine, as are airbrush paints!

(Painting the item can also help to reduce the striation visibility)
Do you print/ sell items from Thingiverse etc?
No. Absolutely not. Never. We DO NOT print other creators works, either freely or for profit, from any open source .STL site, such as Thingiverse. All our designs are either of our own creation, or we are fully licensed by the Intellectual Property owner to print and sell their items. Please do not ask.
Can you provide variations e.g. different scale, additional colours, etc. on any of your products?
Yes we can! We are very accommodating in most instances. If you have something specific in mind, please email us via the Contact page with a quick message, asking if what you would like is possible, and we'll let you know! There are usually no additional charges for this.
Can I get the .STL files for your items to print on my own 3D printer?
'Fraid not! We do not supply .STL files of any of our models.
Can you create bespoke items?
Yes we can! If you have something specific in mind, we offer a unique approach to a full design, print and supply service. We will create and produce the item, completely free of charge, a copy of which is supplied to yourself, the client, again, free of charge. The finished product will then be listed on our website for others to buy. This allows us to eventually reclaim the cost of producing the item.

A couple of things to note on this service:

– It may take some time to produce the item. We do not offer specific lead times for this service. Please be patient! If it is required by a certain date, please let us know and we'll do our best to accommodate this.

– Created items must be in line with the theme of our business, i.e. board game accessories, wargame terrain etc. We don't produce prototype engine parts or other non-related stuff!

– IP (Intellectual Property) for created items belong solely to The Artificers Forge Ltd. By engaging with us on a project, you agree and acknowledge this.

– Only the finished, printed item is supplied. We do not supply the design files or STLs. Any links to prototype work in progress will be non-downloadable.

– Please don't ask if we can print files downloaded from other sources. It'll be a no. Please see Thingiverse FAQ above!

Still happy and want to proceed? Great! Simply fill out the Contact form and we'll be in touch very soon! We look forward to working with you…